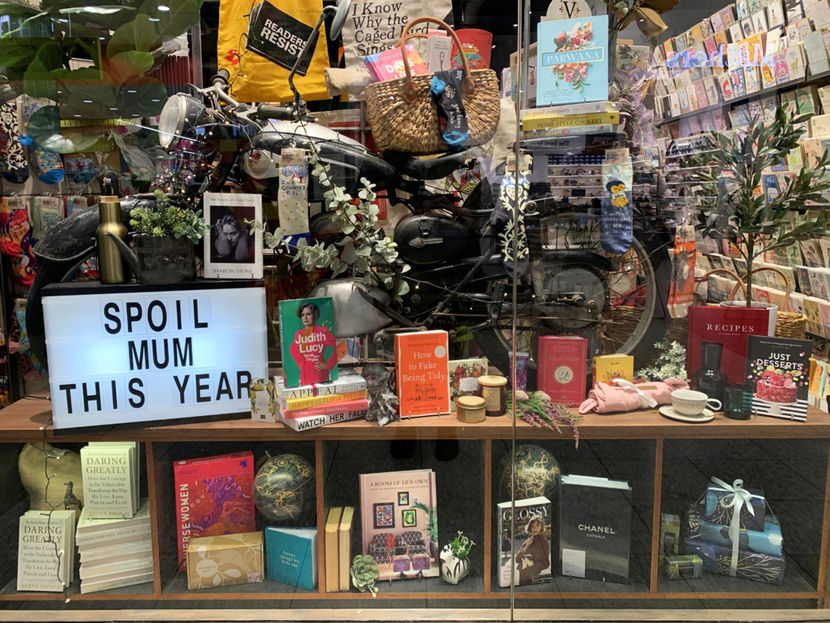 What are our booksellers giving their mums this Mother's Day?
With so many books and gifts on offer at Harry Hartog, it can be hard to know what to choose come present-giving time. So we asked our booksellers to reveal what they will be putting a red ribbon on this Mother's Day.
We also love making personalised recommendations, so if this doesn't quite tick the box, chat to us in-store about what you're after; or else why not give the gift of a Gift Voucher?
Jane in Love by Rachel Givney

This Mother's Day I will be gifting the charming Jane in Love by Rachel Givney. Based on the novel concept of Jane Austen time-travelling to the 21st century and falling in love, Jane in Love is a delightful and moving read. This highly imaginative idea, and the depiction of a young Austen in love with a man and the 'magic' of the 21st century, were so well-executed and carefully drawn that I now convinced that it was all true. Read the full review here.

Carla

Robert Gordon Teapot Set

This Mother's Day, I will be giving my Mum a new Tea Set! The Robert Gordon Teapot, Cup and Saucer are handmade in Australia and is the perfect winter gift. I like the rustic look of all three pieces and the Teapot is the perfect size for a cosy winter brew! Throw in some of the yummy tea leaves from Love Tea and this is the perfect combination for a snug afternoon with Mum!

Jazzy

Alperstein Umbrellas

This Mother's Day, I will be gifting my Mum with a new umbrella! Our current collection features dazzling designs by a range of Warlukurlangu Artists – the royalties directly benefit the artist and their community. These umbrellas open backwards so both you and the art are protected from harsh weather conditions. The perfect way for Mum to stay dry in style!

Ange

The Rock from the Sky by Jon Klassen

This Mother's Day I'll be gifting John Klassen's new book The Rock from the Sky. Please excuse my bias, I wear my love for my boy JK like a badge. Literally. It's the bear from I Want My Hat Back. Klassen's new one has it all: an absurd yet engaging story, beautiful artwork and his trademark off the wall humour. Klassen writes the kind of children's books that could be mistaken for those that are appreciated more by adults if not for one thing: kids love them.

Garth, Woden

Community by Hetty McKinnon

Hetty McKinnon's fabulous vegetarian cookbook! Full of delicious salad recipes set out in a clean, easy-to-follow format, Community is one of the best vego cookbooks out.

Kayla, Miranda

Grace Under Pressure by Tori Haschka

I'll be giving my Mum Grace Under Pressure by Warringah local, Tori Haschka. You all need to read this book. Read it, talk about it with your friends and family. Share it with the women in your life. You'll laugh, you'll cry, and it will start some brilliant conversations about how awesome women are and the largely unrecognised load that mothers carry. Seriously, can't rate it enough!

Georgia, Warringah

Koala & Wombat Egg Cups

This Mother's Day I'll be gifting my breakfast-loving mother these adorable wombat and koala egg cups. She's an egg master – runny yolks always cooked to perfection. These surely belong on the classic breakfast-in-bed tray. Better yet, they come in a matching duo, so we can enjoy my less-perfect eggs together!

Rachel, Woden

Fairywren Candles

This Mother's Day, here at the Warringah store, we are treating the women in our lives to a handcrafted Fairywren candle. Locally made in Collaroy, these candles are sure to please with a variety of different scents inspired by nature. Our store favourite is the scent 'Australian Bush' which has a lush, revitalised earth smell that feels like you have just gone on a bushwalk in the rain. Fairywren donate 10% of all profits to Birdlife Australia who have been protecting endangered birds since 1901. With a burn time of 30 hours, it's the gift that just keeps on giving.

Team Warringah

Make it Happen by Jordanna Levin

I'll be giving Make It Happen by Jordanna Levin because my mum has so many aspirations and dreams for what she wants her future to look like and I feel like 2021 is her year to make her dreams a reality!

Tori, Narellan

Treat the women in your life like royalty this Mother's Day with a new pair of our pink Izipizi frames. She will be feeling as elegant as Princess Diana and as Stylish as Grace of Monaco.

Team Warringah

This is Going to Hurt by Adam Kay

For Mother's Day this year, I'll be getting my mum this funny and heartbreaking book, filled with stories from a UK junior doctor. Like most healthcare workers in the country and around the world, she has been working non-stop for the past year and will love and totally relate to this book.

Jemma, Miranda

This Mother's Day, I will be gifting the A Poem for Every Day of the Year by Allie Esiri because it's such a beautiful collection of wide ranging works, and it will tide my mum over until next year! And I'll be adding on How Should One Read a Book by Virginia Woolf because her copy is falling apart, and this new edition is absolutely gorgeous.

Elle, Macquarie

Ernest Hillier Chocolates

This Mother's Day I will be gifting quite a pile of books, but I make sure that mum always gets some of our Ernest Hillier chocolates too. The ginger & dark chocolate is her favourite!

Alannah, Macquarie

Outlander by Diana Gabaldon

My Mum is a Diana Gabaldon fan, so a re-read of the Outlander series is on the cards in eager anticipation of book number nine, Go Tell the Bees When I'm Gone, due November 2021. (Why not get in the mood with some Outlander Knitting too?)

Natalie, Kotara

I am endlessly in awe of my Mum's passion and strength for the triathlons she loves to do, so these goodies are to celebrate her fierce determination as the boss lady she is!

Emily, Kotara

You Love Me by Caroline Kepnes

The eagerly awaited third instalment of the YOU series has arrived! Joe Goldberg has had enough of the city and wants to start a family. This time with a single mum – the only problem is that she can't devote herself to him as he wants her to. And he will stop at nothing to have her. Give mum the book before the third series is released on Netflix.

Mez, Burnside

The One Hundred Years of Lenni and Margot by Marianne Cronin

My sweet Mumma normally loves a good murder mystery but this year she will be receiving a book for her softer side. The One Hundred Years of Lenni and Margot is a beautiful story that leaves you with an incredible overwhelming feeling of love long after you have finished.

Belinda, Kotara

My Family Cookbook

My Mum is the holder of all the family recipes. From my Great-Grandmother's Jam Drop biscuits, to my Grandfather's pickles. Her current organisation is a falling apart folder with handwritten and food smeared notes. It is time she upgrades! This journal is fantastic, with a contents page, family hall of fame and even a space for a photo for every recipe, as well as plenty of space for future generations to add their own family recipes.

Emily, Green Hills

Alperstein Umbrellas

My Mum is always stylish and loves beautiful artwork. And since winter is coming (hopefully with some rain!) than I will definitely be getting her an Alperstein Designs Umbrella. Read the full review here.

Josh, Green Hills

The Woman in the Window by A.J. Finn

Before she sees the film next month, why not buy her the book? The Woman in the Window is a thrilling novel by A.J. Finn. Think The Girl on the Train, The Wife Between Us and Gone Girl. Perfect for that special lady in your life who loves a good crime/thriller.

Karla, Burnside

Emotional Female by Yumiko Kadota

Kadota's powerful autobiography offers an unflinching account of a junior doctor's experience within public hospitals in Australia. Documenting her trajectory in the field, Kadota explores the toxic workplace masculinity, 70-hour working weeks, racism, burnout and the patriarchal structures which enable it. A fearless exploration of Australia's healthcare system – and the people that power it. A must-read for all!

Jess, ANU

A Year of Simple Family Food by Julia Busuttil Nishimura

I will be giving mum A Year of Simple Family Food – a recipe book filled with delicious recipes to feed your family through the seasons. Julia presents a beautiful cookbook with Italian and Japanese influences, a combination of flavours that has you salivating as you flick through the pages. The beauty of gifting a cookbook this Mother's Day? It's as much a gift for your lovely mum as it is for your belly.

Queenie

blueQ Socks

The best gift for all the mums out there with a great sense of humour, blueQ have socks for every occasion and every human.
They are made from soft combed cotton, machine washable and and can be thrown in the dryer when you need that favourite pair now.
Which ones?
I never Fart... Well she says she never farts but we all know that's a lie.
I have to pee... Cause no matter where we are she always has to pee.
And lastly, I made a good kid... Well no explanation needed there... I AM the good kid...

Ashleigh