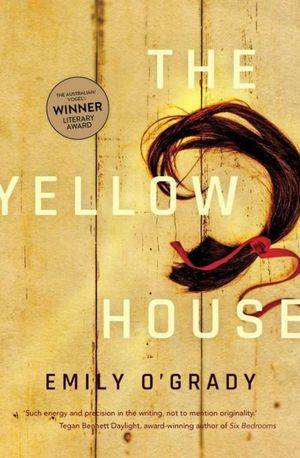 Our most recent Harry Hartog Woden Book Club book was this year's Australian/Vogel Award Winner, "The Yellow House" (Allen & Unwin) by Emily O'Grady.
Claire Leyton, bookseller at Harry Hartog Woden, interviewed the book's extraordinary author, Emily O'Grady. Below is a transcript of their conversation.
Where did your inspiration for The Yellow House come from? Was there a news story or event that prompted you to write about serial killers and the social view that it may be genetic/hereditary?
In 2010, 18-year-old Matthew Milat killed his childhood friend David Auchterlonie in the Belanglo State Forest, the same area where his great-uncle Ivan Milat committed the backpacker murders in the 1990s. He was arrested soon after, and bragged about the crime; he thought by committing murder he was fulfilling his birthright as a Milat. It was a horrific crime, and so unlike any other murder case I'd read about before. I'd never given a second thought to the many ways descendants of violent or infamous perpetrators are affected by their relative's crimes. Though The Yellow House is not a fictionalisation of this case, it sparked my interest in exploring what happens to the unconsidered victims in the aftermath of abject violence.
Do you have a rural/regional background? If so, where?
I was born and raised in Brisbane, but have family in regional Queensland and spent a lot of time there growing up.
We thought based on context that the book was set in Queensland, is this true? Does the location and any of the elements from the book come from your own personal history?
Yes, it's set in Queensland, in the Lockyer Valley, just outside of Brisbane. Though the town is unnamed and fictional, I loosely based the property on where my grandmother lives, in a town two hours out of Brisbane. My grandfather was a butcher, and raised cattle on their property. He also had a small abattoir in the paddock, which was the inspiration for the knackery.
We also thought that the book was set in the late 80s early 90s. Is this when you pictured the story taking place?
I didn't want the novel to be set in a specific time period, but mid-to-late 90s is where I pictured it taking place.
How did you feel when you were writing this book?
I read and watched a lot of documentaries about Australian crime and serial killers, which was draining. When writing the book, I was able to separate myself from the unsettling (and upsetting) subject matter. Rather than focusing on the grisliness of crimes, I was more interested in the characters, and how they cope with the legacies they've inherited.
How long did it take you to write The Yellow House?
I had the idea for The Yellow House about eight years ago, and wrote about 40,000 words over a couple of years. I started fresh in 2015, and it took me about nine months to write the first draft, and spent a few more years editing and rewriting.
Was this always going to be the first book you wrote?
I've never started (or even had an idea for) another novel before. Though it took me a long time to write, once I began The Yellow House I knew I would stick with it. The characters and the premise got under my skin pretty immediately.
Where do you get your inspiration from in the writing of your characters? Are any of them based on people you know or personal experience?
None of the characters are based on people I know, but some of the interactions between Wally, Cub, and Cassie were based on my memories of growing up with siblings. Cub as character was fairly well formed immediately, and all the other characters developed in relation to her.
Do you have a favourite character or a character you connected with/feel for the most?
Definitely Cub, just because I was completely inside her head while writing the book, and have so much empathy for her experience. I also have a soft spot for Wally.
To what extent did To Kill A Mockingbird influence your writing of The Yellow House?
It wasn't a conscious inspiration, but Cub has that same tenacity as Scout. Like Mockingbird, the child's perspective in The Yellow House creates an interesting tension when writing about difficult subject matters.
Was the title of the novel a reference to Vincent Van Gogh's Yellow House?
No, it wasn't! I had a different title while writing the book, and it was changed to The Yellow House closer to publication. However, I quite like that The Yellow House is usually associated with a beautiful painting, and the unsettling recognition that occurs when you consider the same image in context of the novel.
Les, while deeply disturbing, had some redeeming features as a father and grandfather, but Ian didn't seem to have any at all - did you see him as a pure villain or did he have any redeeming features?
I don't necessarily think that Ian doesn't have redeeming features, but because Cub sees him as an unambiguous threat to the family, we only see her skewed view of him. I also wasn't interested in telling Ian's story, or justifying his pathology to the reader, which is why we only see the surface of him as a character.
Would you consider writing a sequel? For example; how Wally, Cub, Helena etc live their lives after this?
I have no plans for a sequel, but I think it would be interesting to explore what happens to Cub and Wally, in particular. Because they are still young, there is a chance for them to have a life beyond what they've been born into (unlike Cassie, who was more directly affected by Les's crimes.).
What made you want to be a writer? Was it always something you wanted to do?
I've always been a voracious reader, and originally wanted to work in editing and publishing. When I started The Yellow House I never imagined it would be published, and never considered myself to be a writer. Now that the book is out, I feel a lot more comfortable with the title.
What is your writing process? Do you need to stick to a strict schedule or do you write when inspiration strikes?
I don't have a super interesting writing process. At the moment I try to fit in a few hours of writing whenever I have the time. When I wrote The Yellow House, I was stricter with myself. I would write in the mornings, until I'd hit my target word count for day (usually 1000 words).
Do you have a favourite place to write? Any writing rituals or favourite snacks to eat while writing?
I can write anywhere really, as long as it's quiet. Access to lots of tea is preferable.
What are some of your favourite authors or books?
AM Holmes, Evie Wyld, Kazuo Ishiguro, MJ Hyland, Jeffrey Eugenides, and Andres Barba, to name a few!
If you could meet any author living or dead who would it be?
Donna Tartt
What are you currently reading?
The Everlasting Sunday by Robert Lukins
Are you able to tell us what you are currently working on or what plans you have for the future? If so, when can we next expect another book?
I've just started my second book. I'm a pretty slow writer though, so it might be a while yet.
Is there anything you would like to say to your readers?
Thank you so much for reading The Yellow House (and sorry it was so bleak!).
Thank you to Allen & Unwin for supporting this month's book club and providing interview opportunities.