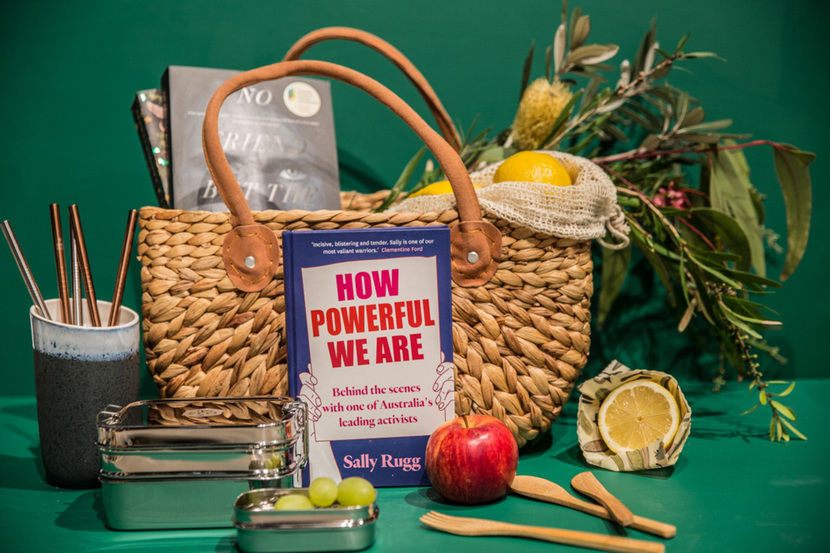 Step Up is inspired by real life changemakers, and the small (or significant) changes we can choose to make a difference in the world. Whether it's barracking for your beliefs, protecting the environment or living more consciously, these books and products made an impression on us.
How Powerful We Are by Sally Rugg captures the spirit of Step Up, with its first-hand account of the epic marriage equality campaign, written from the trenches. As Executive Director at Change.org and with 5+ years at GetUp under her belt, Rugg knows a thing or two about activism and how to enact social change. Here, she shares her insights.
Activism may not have been what motivated Socceroo Craig Foster – but a sense of justice and inherent belief in people power did, and the similarities are clear. In Fighting For Hakeem, we hear the story of how Foster stood up to defend promising young soccer player, Hakeem al-Alraibi, who was granted with refugee status only to be threatened with extradition in 2018. (If this fascinates you, don't forget the incredible No Friend But The Mountains by Kurdish journalist Behrouz Boochani, written in text messages from Manus Island).
Strength of character also shines through in Unfollow, the biography of Megan Phelps-Roper, who at 22 stepped out from the shadows of extremist Westboro Baptist Church (which famously decreed 'Thank God for Dead Soldiers') to preach her own truth. Luckily, she left her prejudice and bigotry behind. A tale of redemption.
Feminist icon Gloria Steinem arms us with the punchy and oh-so-right one-liners we didn't know we needed in The Truth Will Set You Free, But First It Will Piss You Off! And closer to home, Emily Maguire reveals the green-and-gold history of the feminist movement, from First Wave rights to riotgrrls.
Finally, stepping up would not be complete without a healthy dose of green. Planet Rescue is a picture book with a difference, with transparent pages flipping to reveal how a simple act (like, sharing a bath) can have poditive consequences. Pick up some stylish and resuable metal or bamboo straws, eco produce bags or gorgeous beeswax wraps to really enhance the experience (pictured above).
And, by this time you'll need a carrybag for all your goodies! Our Harry Hartog Social Enterprise bag has been responsibly sourced and made from environmentally friendly jute. Fair pay and safe working conditions are ensured, with a percentage of proceeds donated to a charity working with street children in Kolkata. For the final sweet kick, at the end of its life the jute is even biodegradable and compostable!
There's plenty more to explore in the Harry Hartog Handbook. Happy browsing!