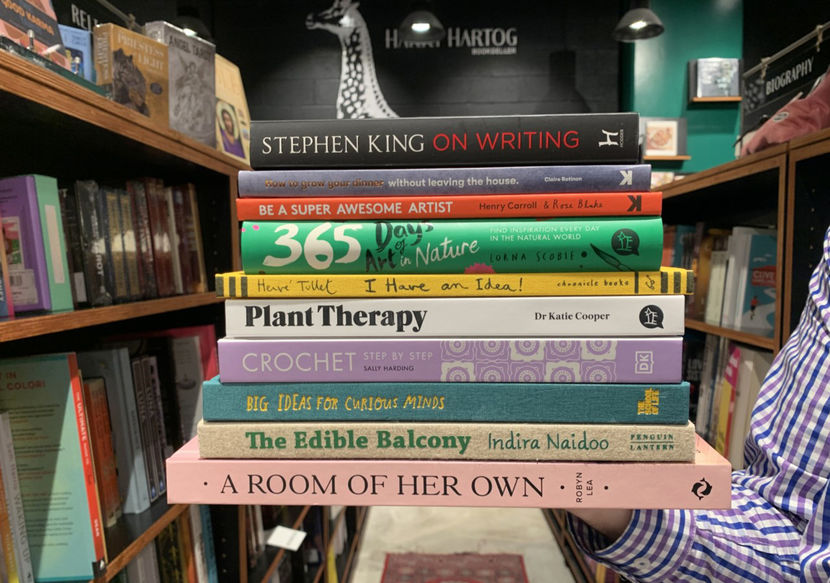 The year has settled in, with chilly eves and russet leaves in the air. We find ourselves yearning for things to make and do with our hands and minds; ways to reinvigorate a favoured old pastime or discover a passion anew.

These are our book recommendations for finding a new hobby, and having fun while growing, creating and making.
First, we massage our green thumb with the inspirational and oh-so-stylish tome, Plant Therapy by Dr. Katie Cooper ($34.99). Exploring how cultivating an indoor green oasis can improve your mental and emotional wellbeing, this is the perfect marriage of self-care and getting hands-on in nature.
Also utilising our home environment for a leafy cause is The Edible Balcony by media personality Indira Naidoo ($39.99). This classic gardening go-to takes you through how to transform a small urban space into a bountiful kitchen garden, with vegetables, herbs and fruit. The book includes gardening tips and tricks as well as 60 wholesome recipes; accompanied by Naidoo's warm and engaging personal story. How to Grow Your Dinner Without Leaving the House by Claire Ratinon ($24.99) similarly shows you how to utilise tiny spaces (such as tubs and pots) to create edible and sustainable grow-your-own dinner options.
If you're itching to use yours hands but with a crafty spin, why not try Crochet Step by Step? As the weather cools, you could crochet your own throw rug, beanie or scarf, using this easy-to-follow reference for stitches, techniques, and yarns.
Getting back to basics though, there are many excellent books to kickstart your creativity and stimulate your mind. Again making that connection between nature and inspiration is 365 Days of Art in Nature by Lorna Scobie ($22.99), which encourages you to slow down, take a closer look at the natural world with prompts for you in your art and creativity.
For the young and young-at-heart, Big Ideas for Curious Minds by the School of Life ($35) is a fantastic way to dive into the world of philosophy, encouraging us to ask and explore the big questions in life in a way that is positive and productive. Be A Super Awesome Artist ($19.99) features 20 art challenges inspired by real-life legends such as Kahlo, Picasso and Duchamp. Some readers may also recognise the distinctive style of I Have an Idea ($32.99), from the pen of creative mastermind Herve Tullet (Press Here, Mix It Up).
Could this be a recommended reading list without a book about writing? (Or Stephen King!). His classic, On Writing ($22.99) is part biography, part practical tips, and is a riveting read whether you want to upskill in writing or simply enjoy a great yarn.
Finally, if you're looking to makeover your home in a way that is in keeping with your new creative passions, flip through the stunning A Room of Her Own by Robyn Lea ($65). Stepping over the threshold of 20 women creatives' homes you will find eye-candy and interior inspo galore. Enjoy!