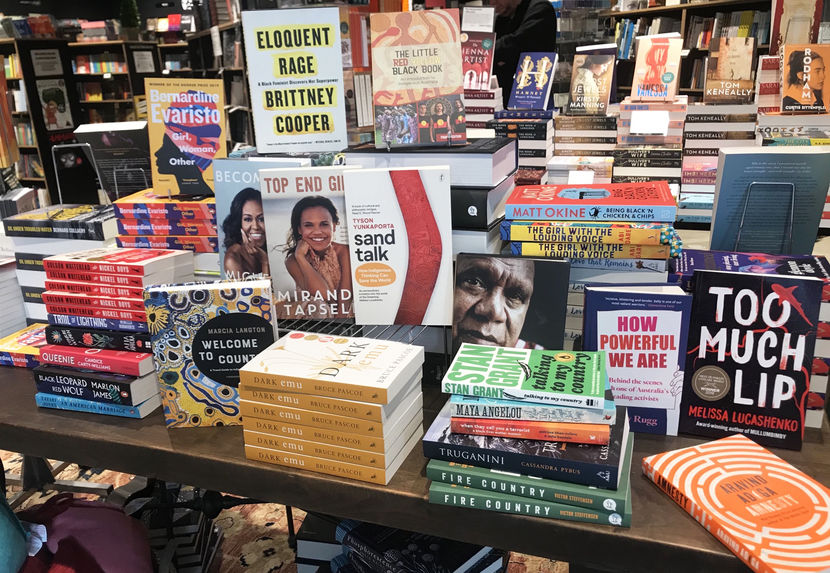 Like most, we have been saddened by the events unfolding in the US as well as right here in Australia, highlighting a legacy of inequity for Black and Indigenous communities that continues to this day. We thank our community for contacting us to request book recommendations for all age groups, that speak to this issue and offer a chance to educate, reflect and represent. We believe books are a crucial and meaningful way to connect, understand and elevate the experiences of black lives and voices.
We have put together some suggestions below, but this is by no means exhaustive. As always, feel free to chat to our booksellers in store if you are after something outside of this list. And, when you are in store please remember we have an ongoing charity drive for the Indigenous Literacy Foundation, which does critical work in lifting literacy levels so all Australian children have the same choices and opportunities. You can donate in store, or else directly via their website.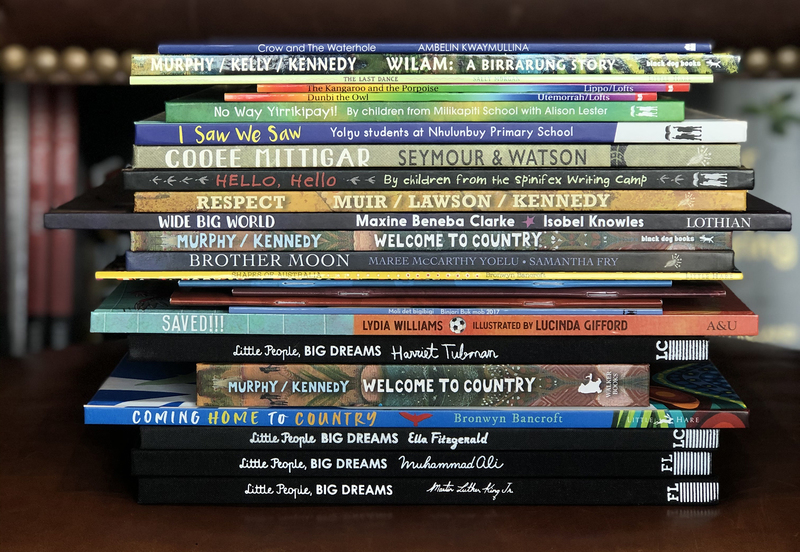 Picture books
Crow and The Waterhole – Ambelin Kwaymullina
An uplifting story of the most beautiful bird.
Wilam: A Birrarung Story – Aunty Joy Murphy, Lisa Kennedy, Andrew Kelly
The Indigenous and geographical story of Melbourne's beautiful Yarra River.
The Last Dance – Sally Morgan
Everyone needs a home, but some Australian creatures are losing theirs.
The Kangaroo and the Porpoise & Dunbi the Owl
Based on Dreamtime stories told by Daisy Utemorrah and Agnes Lippo.
No Way Yirrikipayi! – Children of Milikapiti School with Alison Lester
Meet the animals and learn their Tiwi names in this delightful book for all ages.
I Saw We Saw – Yolgnu Students at Nhulunbuy Primary School
There's always something to see and do for these Yolgnu students.
Cooee Mittigar – Jasmine Seymour and Leanne Mulgo Watson
A story on Darug Songlines.
Hello, Hello – Children from the Spinifex Writing Group
Join this family as they discover what the dark night is hiding.
Respect – Aunty Fay Muir, Sue Lawson, Lisa Kennedy
Reminds us to respect others and respect ourselves.
Wide Big World – Maxine Beneba Clarke
Celebrates difference in all its many and varied forms.
Welcome to Country – Aunty Joy Murphy, Lisa Kennedy
An Aboriginal ceremony of Welcome to Country, depicted for the first time in a picture book.
Brother Moon – Maree McCarthy Yoelu, Samantha Fry
A story told by Great-Grandpa Liman.
Shapes of Australia – Bronwyn Bancroft
From boulders to bee hives, from mountains to coral.
Saved!! – Lydia Williams, Lucinda Gifford
A funny and triumphant picture book by Lydia Williams, goalkeeper for the Matildas.
Coming Home to Country – Bronwyn Bancroft
A visual and lyrical depiction of coming home to country.
Little Refugee – Anh Do
The inspiring true story of 'Australia's Happiest Refugee.'
The Undefeated – Kwame Alexander and Kadir Nelson
A powerful and important ode to black history.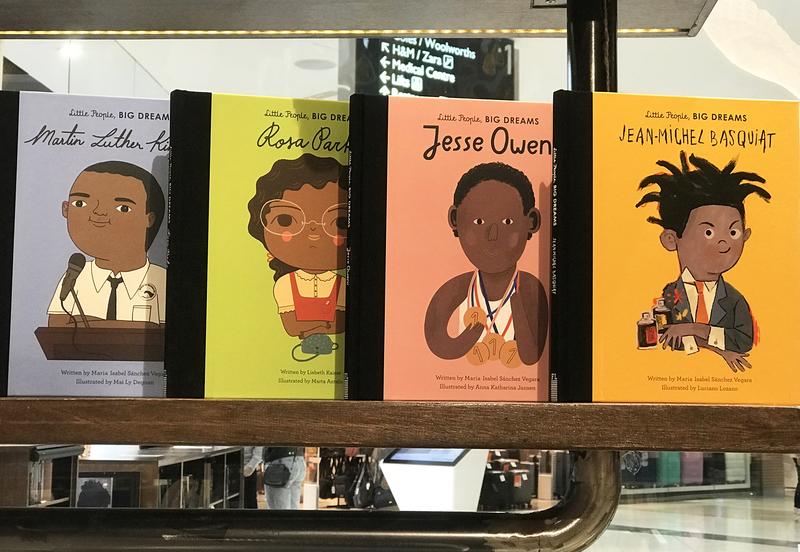 Little People, Big Dreams
The Little People Big Dreams series is beloved for its depiction of important stories and people from history, to inspire the next generation of outstanding people. Using vibrant, gorgeous illustration and simple, truthful text, it communicates difficult issues and experiences in a way younger readers can connect with. Profiles include:

Young Readers & Teens
Young Readers
Meet Taj at the Lighthouse – Maxine Beneba Clarke, Nicki Greenberg
Taj came to Australia after a long journey.
Life Stories: Martin Luther King Jr.
The amazing true story of this Civil Rights activist.
Two Ways Strong: Jaz's Story The Deadly Mob from Concordia
Wombat, Mudlark & Other Stories – Helen Milroy
Animal tales told in the style of traditional teaching stories.
Blended – Sharon M. Draper
A story about divorce and racial identity told from the POV of an 11-year-old girl.
Fog a Dox – Bruce Pascoe
Albert is a bushman and lives a remote life surrounded by animals and birds.
Young Dark Emu – Bruce Pascoe
A junior version of Pascoe's multi award-winning book.
The Arrival – Shaun Tan
Timeless story of encountering a strange new world.
I am Malala – Malala Yousafzai
Children's edition of Malala's story.
My Girragundji – Meme McDonald and Boori Monty Pryor
The vivid classic of a boy growing up between two worlds.
Championship Collection Patty Mills with Jared Thomas
Teen Readers
This Book is Anti-Racist – Tiffany Jewell, Aurelia Durand
Twenty lessons on how to wake up, take action, do the work.
Dread Nation – Justina Ireland
A story of the undead like you've never read before.
The Hate U Give – Angie Thomas
Inspired by the Black Lives Matter movement, this is about one girl's struggle for justice.
Children of Blood and Bone – Tomi Adeyemi
A fantasy YA touching on race, power and injustice.
Riding the Black Cockatoo – John Danalis
The inspiring true story of one man's reconciliation journey. (Ask us in-store about this title)
Refugee Boy – Benjamin Zephaniah
Based on true stories of young refugees. (Ask us in-store about this title)
Welcome to Country (Youth Edition) – Marcia Langton
Essential reading for every young Australian, comes with teacher notes.

Adult
If Beale Street Could Talk – James Baldwin
A classic set in Harlem, the black soul of New York City.
An Orchestra of Minorities – Chigozie Obioma
Set across Nigeria and Cyprus, written in the mythic style of the Igbo tradition.
The Nickel Boys – Colson Whitehead
Recently won the Pulitzer Prize for Fiction.
The Yield – Tara June Winch
The story of a people and a culture dispossessed, and a celebration of what endures.
Conjure Women – Afia Atakora
A pale-skinned, black-eyed baby arrives on the plantations like a bad omen.
An American Marriage – Tayari Jones
An explosive love story about a marriage interrupted by unfair imprisonment.
Their Eyes Were Watching God – Zora Neale Hurston
Described as the greatest American novel of the 20th century.
Beloved – Toni Morrison
The story of Sethe, haunted by the memories of her past.
Contemporary Indigenous Plays
Five plays from around the country.
Fire Front – Alison Whittaker
An important anthology of Indigenous poetry.
Terra Nullius – Claire G. Coleman
A speculative fiction reimagining Australia's settler past into its future.
Foreign Soil – Maxine Beneba Clarke
A collection of award-winning stories.
Carpentaria – Alexis Wright
A soaring epic set in the Gulf country of north-western Queensland. Miles Franklin winner.
Girl, Woman, Other – Bernadine Evaristo
Twelve very different people, mostly black and female, over 100 years of change. Booker winner.
Mouth Full of Blood – Toni Morrison
Key essays, speeches and meditations.
Black is the Body –Emily Bernard
Twelve personal, interconnected essays.
Aboriginal Stories
Collected myths and legends.
When They Call a Terrorist – Patrisse Khan-Cullors, Asha Bandele
From the founders of the Black Lives Matter movement.
Gulpilil – Derek Rielly
Yolngu man, hunter, tracker, actor, legend.
The Hate Race – Maxine Beneba Clarke
A devastating memoir about growing up black in white middle-class Australia.
Talking to My Country – Stan Grant
A personal meditation on what it means to be Australian.
Redefining Realness – Janet Mock
A resounding and inspirational voice for the transgender community.
Colouring the Rainbow – Ed. Dino Hodge
Blak, queer and trans perspectives.
Talkin' Up to the White Woman – Aileen Moreton-Robinson
Indigenous women and feminism.
Dark Emu – Bruce Pascoe
Asks us reconsider the hunter-gatherer tag for pre-colonial Aboriginal Australians.
Salt – Bruce Pascoe
A collection of stories and essays.
Top End Girl – Miranda Tapsell
From young Larrakia Tiwi girl to star of the screen, this is Miranda's story.
Sand Talk – Tyson Yunkaporta
How Indigenous thinking can save the world.
Fire Country – Victor Steffensen
Indigenous fire management skills to revolutionise Australia.
Why I'm No Longer Talking to White People About Race – Reni Eddo Lodge
An essential handbook for understanding race relations in Britain and the world.
Tell Me Why – Archie Roach
A powerful memoir of a true Australian legend.
Taboo – Kim Scott
An act of extraordinary violence and reconciliation. Winner Premier's Literary Awards.
White Tears Brown Scars – Ruby Hamad
What happens when racism and sexism collide?
Growing Up Aboriginal in Australia – Ed. Anita Heiss
An anthology showcasing diverse stories, voices and experiences.
Too Much Lip – Melissa Lucashenko
Old family wounds open as the Salters fight to stop development of their beloved river. Winner Miles Franklin Award.
The Drover's Wife – Leah Purcell
A compelling reimagining of Henry Lawson's tale.
The Girl with the Louding Voice – Abi Dare
Fourteen-year-old Adunni wants an education.
Such a Fun Age – Kiley Reid
A searing study of race relations, class and the zeitgeist.
Welcome to Country – Marcia Langton
A curated guidebook to this land.
Finding the Heart of the Nation – Thomas Mayor
The journey of the Uluru Statement.