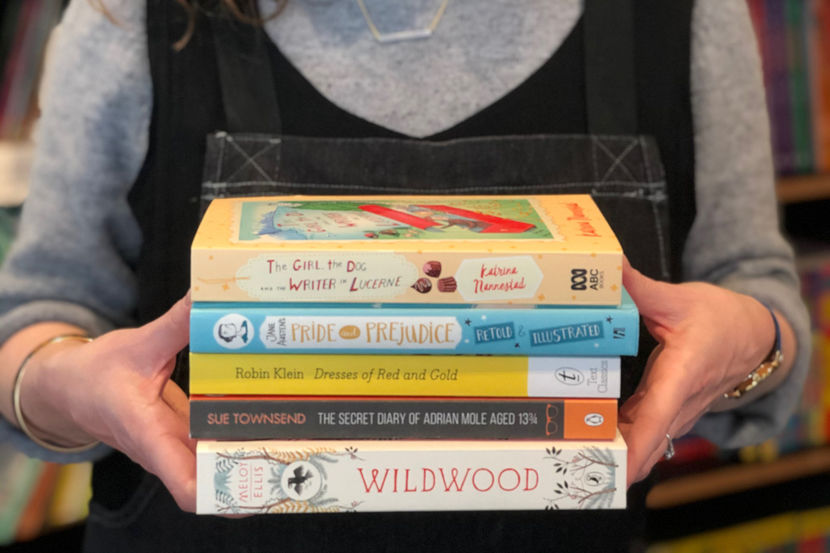 Dear reader,
Thank you so much for placing the care of your Curated Book List in our hands. Based on your feedback, below are my heartfelt suggestions.
All in the Blue Unclouded Weather by Robin Klein
Since LM Montgomery is your favourite (and mine ... my dog is named Gilbert Blythe!) I have included this wonderful Australian book. It is the first in a series of three and I re-read it all the time. Four amazing sisters growing up in a country town in the 1950s, each chapter is a beautiful, funny, sometimes sad adventure for their family as they struggle with money and life but always make it special. I cannot recommend it highly enough!
Jane Austen's Pride and Prejudice (retold) by Katherine Woodfine
It sounds like you're a great reader, so I think you're ready to start on the classics! This is a re-telling of a very famous book about five sisters and a mother who is desperate to marry them off. There is romance, drama, secrets, lots of muddy walks in fields and a real twist at the end. There's a reason this story is still loved by so many. And if you love Anne Shirley, I know you'll love Elizabeth Bennet too!
The Girl, the Dog and the Writer in Provence by Katrina Nannestad
Honestly, who wouldn't want to be in Provence (the South of France - lots of lavender fields and nice pastries), let alone with a dog and a writer!? This series is really popular, everything going swimmingly until a mystery crops up that young Freja is desperate to solve. If you like it, there is another set in Rome!

The Secret Diary of Adrian Mole, Aged 13 and 3/4 by Sue Townsend
I remember reading this in the school library when I was in year six and giggling uncontrollably. These diary entries are completely raucous and silly and sweet and will make you want to keep a journal yourself - I just hope your tale isn't as disastrous as Adrian's! This was written in the 1980s, so it's also really cool to think about how much has changed since then, and what is just the same.
This is a beautifully told (and, occasionally, illustrated) old fashioned adventure. Prue's brother is abducted and she heads out into the Impassable Wilderness to find him. It's a bit like a fairy-tale, but also a story of growing up that you just won't want to put down. The author is famous musician and songwriter, so it reads beautifully! Like poetry but more exciting.
Honourable Mention: I didn't include it above as you may have already read it, but the Lemony Snickett Series of Unfortunate Events are a brilliantly quirky, dark (but not scary) and smart set of books to get into.
So, dear reader, we hope you like the sound of these as much as we do.

Stay healthy and happy reading,

Meg, Harry Hartog Burnside