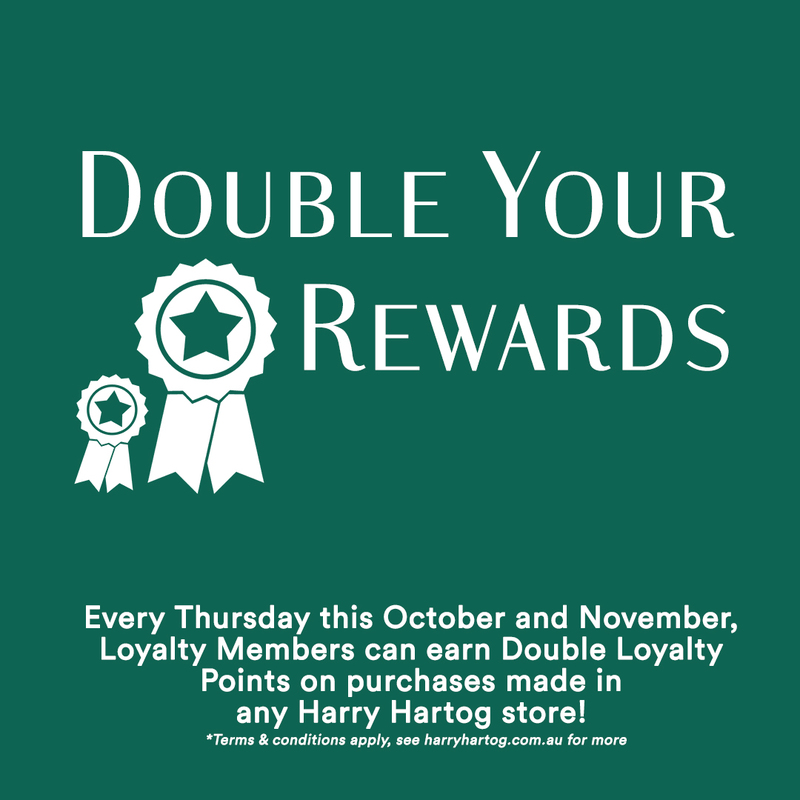 Please note this offer has now expired
The Harry Hartog Loyalty Program is our way of rewarding our community.
And this October and November 2020, we have a special offer for our Loyalty Members.
Double Your Rewards!
Every Thursday, Loyalty Members can earn Double Loyalty Points on purchases made in-store at any Harry Hartog Bookseller.
So that means, if you purchase something on any Thursday running from 8 October 2020 – 26 November 2020, you get double the rewards! Your points accumulate in your account, and then you can use them to 'buy' books in the future. Double the points mean you get there quicker!
To take advantage of this offer, you just have to be part of our Loyalty Member program, or join up on the spot.
What is the Loyalty Program?
Our Loyalty Program is free and easy to join.

To join, chat to us in-store today! For more details about the Loyalty Program head here, and find your local Harry Hartog here.
Terms & Conditions
Our Loyalty Program is a frequent shopper program. Customers accrue loyalty points for each transaction and these may be redeemed at point of sale as tender for purchases, once the spend for a customer reaches $200.
The 'Double Your Rewards' offer:
* We are rewarding Loyalty Members with Double Loyalty Points for transactions on Thursdays for the period below.
* This Double Your Rewards offer will run each Thursday from October 8 – Nov 26 in our HH Stores.
* Loyalty Members can accrue points to the equivalent of 10% of their spend, these are allocated to their member account which can be used as tender on future transactions.
Customers need to spend $200 to be able to redeem points and must be listed in the system as a Loyalty Club member. Loyalty Points can only be redeemed in store once the spend is over $200.
No rainchecks. This Double Points offer is valid only for transactions in store in this limited time period.
Double Points will be allocated to Loyalty Members for in-store transactions only.
The Double Points promo will apply to sales in-store only for all items sold, excludes:
* ANU merchandise
* The featured monthly 'Double Loyalty Point' books for October and November, with Double Points already applied
* Textbooks
* Postage & other services
* and, the purchase of gift vouchers
Loyalty Points can only be allocated to customer accounts when the Loyalty Member details are noted in the transaction.
Customers must nominate to join up as a Harry Hartog Loyalty Program Member to be eligible for this offer.
Customers may sign up prior to the transaction in order to be eligible.
Individual customers may sign up as Loyalty Members. The Harry Hartog Loyalty Program is available for individual shoppers only.