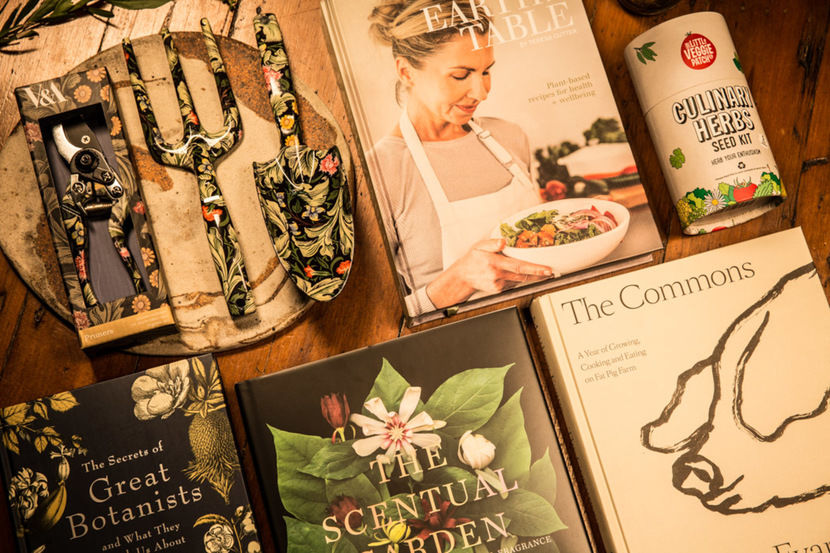 As the silly season sets in, we increasingly turn to the good things in life – the great outdoors, the joys of sharing a meal with loved ones, time spent reconnecting with our neglected senses of taste, smell, and touch. And so we cultivated a collection of our favourite books around the theme 'Grow & Create' – books about growing your green thumb and whipping up masterpieces in the kitchen. Enjoy!
For the foodies, we have the book that Yotam Ottolenghi designated as his absolute favourite of 2019, The Whole Fish Cookbook, saying: "Josh Niland has revolutionised the way we think about, and treat, fish." With 60 recipes ranging from Perfect Fish and Chips to Wild Kingfish, this is a piece of art as well as a gastronomic adventure.
Similarly gorgeous is Islas: Food of the Spanish Islands by Emma Warren, with 100+ vibrant, authentic and utterly delicioso meals all your senses will thank you for.
Seasonal eating is not a fad, it's a way of life as we explore in The Commons, charting an annum at the Huon Valley Fat Pig Farm with Gourmet Farmer Matthew Evans, and of a different variety, Family, Food and Feelings* by Lunch Lady Kate Berry, which is paired to the school terms.
Speaking of pairings, no booklover can go past The Little Library Year, with novel recipes from Kate Young who first brought us The Little Library Cookbook. This time the bookish meals are teamed up to the wax and wane of the seasons, all captured with lush photos and stories.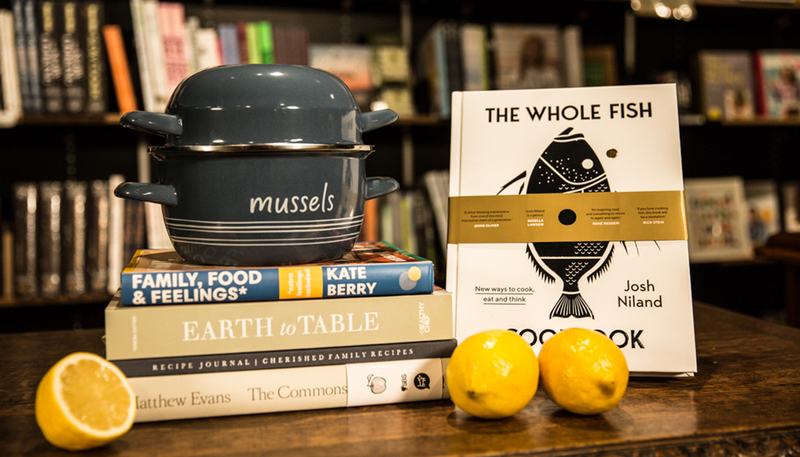 Also featured is the Enamel Mussel Pot designed by culinary queen Stephanie Alexander
'Feel good' comes served up in all different shapes and sizes with Earth to Table by The Healthy Chef Teresa Cutter, and The Two Good Cook Book – a collection of recipes donated by high profile chefs such as Neil Perry and Maggie Beer alongside stories from our finest contemporary authors including Liane Moriarty and Charlotte Wood. You can feel good knowing the food tastes great, and proceeds go to Two Good, the streetside kitchen serving up meals for the needy in Kings Cross a decade ago.
After all that goodness you might need a little bit of naughtiness with Just Desserts from the queen of sweet puns, Charlotte Ree, and Bake Australia Great, in which Katherine Sabbath transforms the nostalgic Australiana of our childhoods into edible creations that taste even better than they look – think a gigantic Fairy Bread Cake or Flamin' Galah Cupcakes.
Bringing food and gardening together is The Edible Garden by Paul West of River Cottage Australia, heaving with 50+ holistic family recipes and gardening advice. Let's Get Gardening is for the budding green thumb in your life (why not pair with one of our Little Veggie Patch Co. Seed Kits?).
Step into a verdant presentation of 35 botanists past and present – such as Joseph Banks and Charles Darwin – in The Secrets of Great Botanists, and consider the riot of delicious aromas every garden offers up in the meticulously and creatively presented The Scentual Garden by Ken Druse. This is flora as you've never seen (or smelled) before.
There's lots more to explore in the Harry Hartog Handbook. Happy reading!