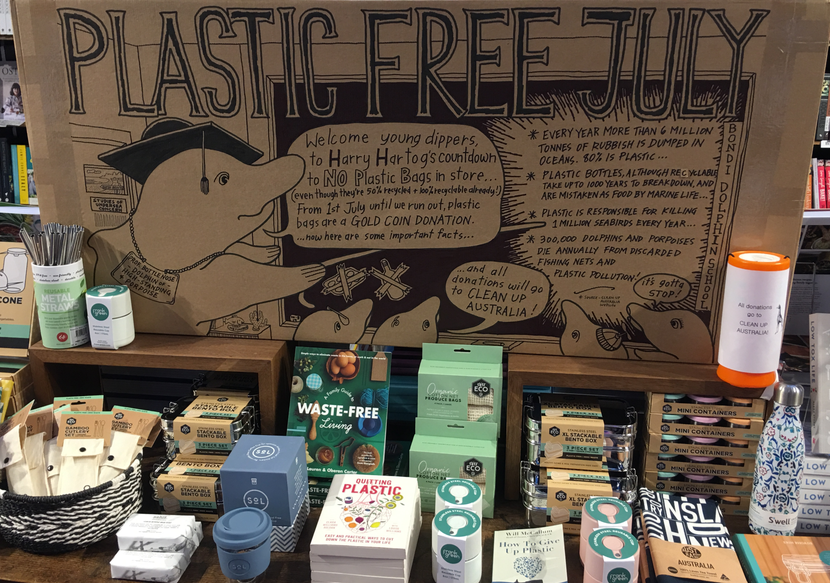 This Plastic Free July Harry Hartog Bookseller is choosing to refuse single-use plastic with our sights on tackling and eliminating the Big Four; plastic bags, straws, coffee cups and water bottles.
Plastic Bags are used for an average of 12 minutes, but a single plastic bag has a life expectancy of up to 1,000 years. While it has been a huge step forward in Australia with Coles and Woolworth introducing their ban on single use bags in the past year, the next challenge is actually remembering to bring those reusable bags to the shops!
Our long standing favourite shopping bag brand is LOQI. They're the perfect size for carrying in a handbag or backpack; they're strong and come in a variety of eye-catching designs
Produce bags are the new kid in town when it comes to non-plastic eco bags. Ever Eco a Sunshine Coast-based brand on a mission to eliminate everyday plastics, have created the perfect produce bags. An ideal bag for getting your fruit & veg from the supermarket to the fridge. Our tip is to wash your produce while still in the mesh/net bags, drip dry and place straight back in the fridge, the net texture will help to remove dirt and any nasties from skins.
Also available from the Ever Eco range are Bento Lunch Boxes, Bamboo Cutlery sets and Silicone Food Covers.
We have put together a beautiful range of handy products (from books to beeswax wraps) to help our customers and team members avoid these nasty single-use plastics this month and beyond.
And, of course, we have some great books to help us with ideas and ways to contribute. Some highlights include 2040 by Damon Gameau, Turning the Tide on Plastic by Lucy Siegle, Quitting Plastic, Low Tox Life by Alexx Stuart, Waste Not by Erin Rhoads, Simple Acts to Save Our Planet by Michelle Neff and much more.
Importantly, we've decided to walk the walk by committing to the phase out of plastic bags in our stores. Starting 1 July 2019, until stocks are exhausted, plastic bags will be available for a gold coin donation. All proceeds will go to Clean Up Australia.

Find simple plastic substitutes in-store now and choose to refuse this July.
Libby Livolsi, Gift & Lifestyle Buyer at Harry Hartog