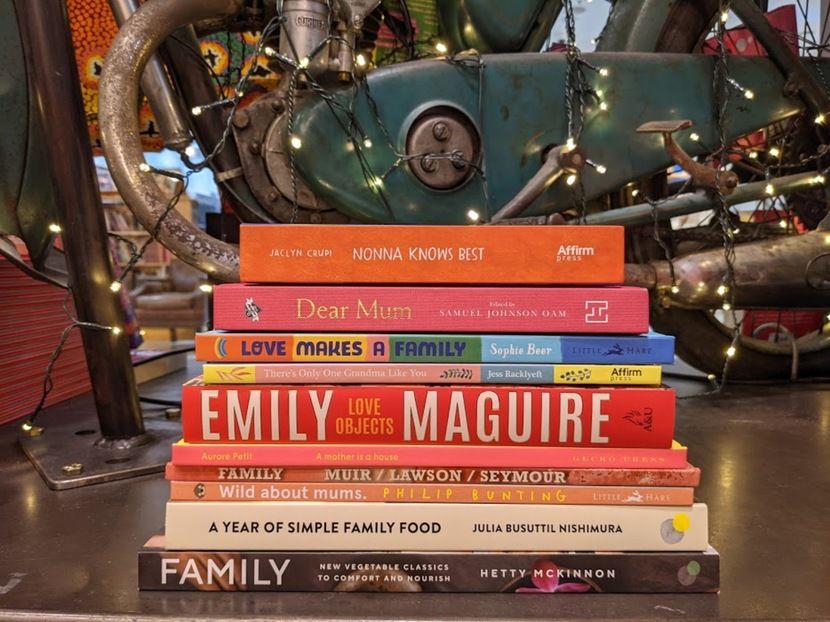 This month we are not only celebrating mums but also the power of love and family to connect us. Whether you'd like to spoil a mother, grandmother, aunt, friend or other beloved family member, a book can be a beautiful place to start.
We know that Mother's Day can be complicated for some, so first up we selected books that show that family is what you make it. Sophie Beer's glorious and life-affirming illustrated picture book Love Makes a Family ($16.99) demonstrates in full-colour that family units come in all shapes and sizes. Whether you read with a littlie or flip through for a dose of sunshine, this is a must-have.
The acclaimed duo Aunty Fay Muir and Sue Lawson reunite to bring us Family ($24.99), an illustrated contemplation about how family can be about heart and home; an endless sky; stories and songs. Their previous picture book Respect was the first book in Indigenous publisher Magabala's Our Place series, and the continue the tradition in this exquisite book pitched at 3-to-9 year olds.
One thing that always unites is food. A Year of Simple Family Food ($39.99) by Julia Busuttil Nishimura puts love and care on a plate in gorgeous, unfussy recipes that span the seasons. From Japanese-braised pork to blackberry and apple pudding, these are meals to comfort and sustain. Family ($39.99) by Hetty McKinnon – who is a firm favourite here at Harry Hartog – also offers up uncomplicated comfort food powered by vegetables (and still full of flavour).
With recipes, tips, sayings and advice, Nonna Knows Best ($24.99) by Jaclyn Crupi is not only a charming celebration of living the good life, Italian-style, but is also a testament to the essential role Nonnas, Nanas, Grandmas and Yayas play in our lives. There's Only One Grandma Like You ($19.99) by Jess Racklyeft similarly commemorates how special grandmothers are.
It's definitely not one for the kids, but Love Objects ($32.99) by Emily Maguire is a fictional exploration of the aunt-niece (and nephew) relationship. Nic is a 45-year-old cat-lover, trivia buff... and hoarder. And her best friend is Lena, her niece, who when disaster strikes suddenly sees a different side to her aunt. A warm and insightful novel.
Finally, let's not forget about the mums. Dear Mum ($22.99) by Samuel Johnson continues in his much-loved series (Dear Dad, Dear Santa) with well-known Australian figures penning heartfelt missives to the mothers in their lives. With Amanda Keller, Guy Pearce, Favel Parrett, Adam Spencer and more included, there's a letter to make you laugh, cry and feel.
Philip Bunting's Wild About Mums ($19.99) goes in search of Mother Nature's most marvellous mums, combining his signature humour and eye-popping illustrations, while Aurore Petit's crisp and contemporary A Mother is a House ($27.99) looks at the world through the baby's eyes. As the baby grows, the role the mother plays changes... but, even as they get ready to take their first steps, the mother goes with them. Because a mother is a home that you carry inside you forever.
We hope you enjoyed this reading list of books that celebrate family, with a special focus on mums, grandmas, aunts and more.