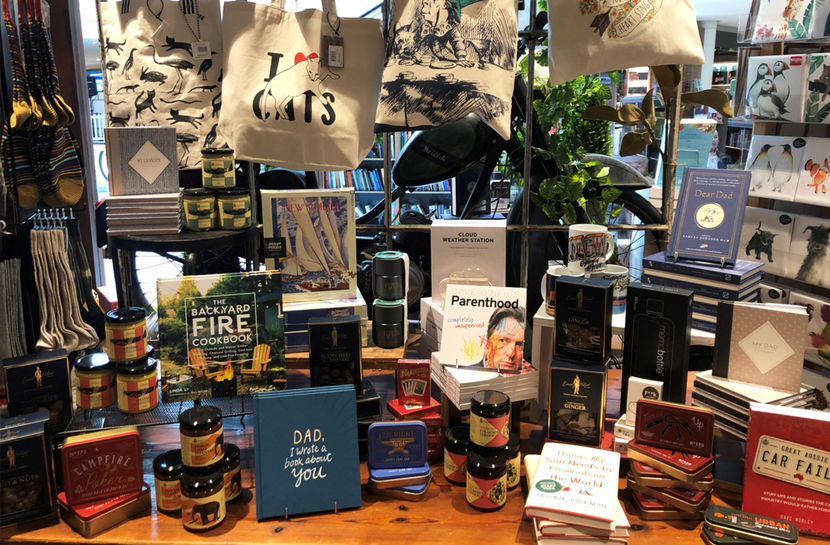 Ever helpful, we've put together Some Things to Remember this Father's Day.
Dad Really Likes Eating
For the steak-loving Dad, it's all about the accessories! With the Maverick Acacia Steak Knives Set, he'll never have to fear an overcooked piece of meat again. These quality serrated knives come as a set of 4 and will last Dad for years to come.
The second most important element on the plate behind the steak itself, is surely the condiment. Surprise Dad with a Hot English Mustard, Dijon Mustard, or a classic Fruit Chutney by The Regimental Condiment Company, an Australian food company producing a range of gourmet food made in Daylesford, Victoria. Created using only premium ingredients, each product features a blurb emanating the glory days of the Officers' Mess.
To complement the condiments, look no further than the lush recipe books Tulum, Epic Vegan and The Noma Guide to Fermentation.
And don't overlook Dad for one who might like sitting down to a good book, well made 'cuppa' and something delicious. We've got the book and the delicious parts covered. A new addition to our gift range are the beautifully boxed Ernest Hillier chocolates. Australia's oldest chocolate company brings Dad all his favourites, from Dark Chocolate Covered Ginger to our favourites Milk Chocolate Covered Scorched Almonds.
Dad Likes to Read (Because Who Doesn't?)
He might like to sit down with the new Michael Robotham, Good Girl Bad Girl, an unnerving psychological thriller from the author of The Other Wife and The Secrets She Keeps. Or Minotaur by Peter Goldsworthy, which follows the angry, unmotivated, unwashed and unkempt Detective Sergeant Rick Zadow. The Good Bloke by Charles Staunton is the incredible true story of a good cop turned bad and his time in Sydney's underworld. All in all, a smorgasbord to choose from.
And keep your eyes peeled for these forthcoming titles we think will readers of any persuasion will devour, such as Glory and its Litany of Horrors by Fernanda Torres, a riotous tragicomedy of a famed actor's path from national sex symbol to cult icon to raving madman after a disastrous performance as King Lear. Keeping with the horror theme, The Devil's Grip by Neal Drinnan, a true story of crime, sheep and shotguns emerging from Victoria's rolling Barrabool Hills. The Killing in the Consulate by Jonathan Rugman covers the most notorious and outrageous murder plots of our time – involving Washington Post journalist Jamal Khashoggi.
Dad Loves a Good Laugh
Dad will have a good chuckle unwrapping a pair of Blue Q socks this Father's Day. We believe we've found the funniest sock range in the world, we'll let the socks speak for themselves.
Woven with luxurious combed cotton for softness, nylon for strength and a touch of spandex for long-lasting fun! With 1% of the sale of all Blue Q socks supports the humanitarian work of Doctors Without Borders, this is the perfect feel good/laugh out loud gift for Dad.
Books in this 'feel good' category include the heartfelt and very honest Dear Dad by Samuel Johnson OAM, There's Only One Dad Like You by Jessica Racklyeft, and How (Not) to Annoy Dad by Dave Hughes.
Dad Likes to be Appreciated
To really lay it all out to Dad this Father's Day you'll need the 'Dad, I wrote a book about you' journal. Suitable for sons and daughters of all ages, each page spread features a simple statement prompt to fill out about how you feel about your Dad. Fill it in with your favourite memories and remind Dad exactly why he is the greatest!
We're getting up close and personal with Dad this Father's Day with our beautiful Interview Journals by Compendium 'In His Own Words' (below). Believe it or not your Dad's life didn't begin when you were born! And some say he was once cool. There's a whole history of stories to be discovered and recorded in this lovely keepsake journal, which is sure to be treasured for generations to come. Available for Grandad too.
Libby Livolsi, Gift & Lifestyle Buyer at Harry Hartog